Maria Bach (Ph.D., King's College London) is Assistant Professor of Economics at the American University of Paris. Her research focuses on the history of economics, especially 19th-century India. She podcasts at ceterisneverparibus.net.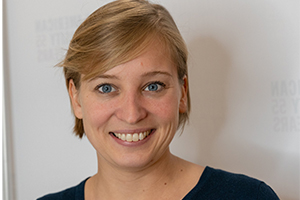 As an economic historian, do you feel like you have more in common with economists or with historians?
I see myself more as an historian of economics – that is to say, I analyse the history of ideas, intellectual thought (whatever you want to call it) rather than events, facts and economic trends. I do however contextulise the texts and discourse I analyse, so I use economic history research in my research. So do I feel more like an historian than economist? My gut instinct would say the latter. I am a trained economist, I did economics and mathematics for my undergraduate and development economics for my masters of science – which is not always the case for historians of economics. I had to learn historical techniques and approaches in my PhD, but my research leans towards understanding how interlocutors observe and perceive the economy from the perspective of an economist. Of course, I contribute to historical research by documenting and analysing texts that were written in the past, but I analyse more from an economics perspective than historical.
You've studied and taught in France and the U.K. and elsewhere. Are there any noteworthy differences between the way economics is taught in those countries and elsewhere?
The main difference I have seen in France and UK in economics teaching is the inclusion of history of economics in France (and not in the UK). Otherwise, it's pretty similar. Perhaps there is a bit more socialist slant in France than in the UK, but this will depend on the university and professor.